Assessment
RISK AND ABILITY ASSESSMENT
Every day there are numerous accidents on the roads, and to justify them we often referred to them as "destiny."
But in the case of accidents, fate really has nothing to do with it.
In fact, the main causes of risk can be divided into three types: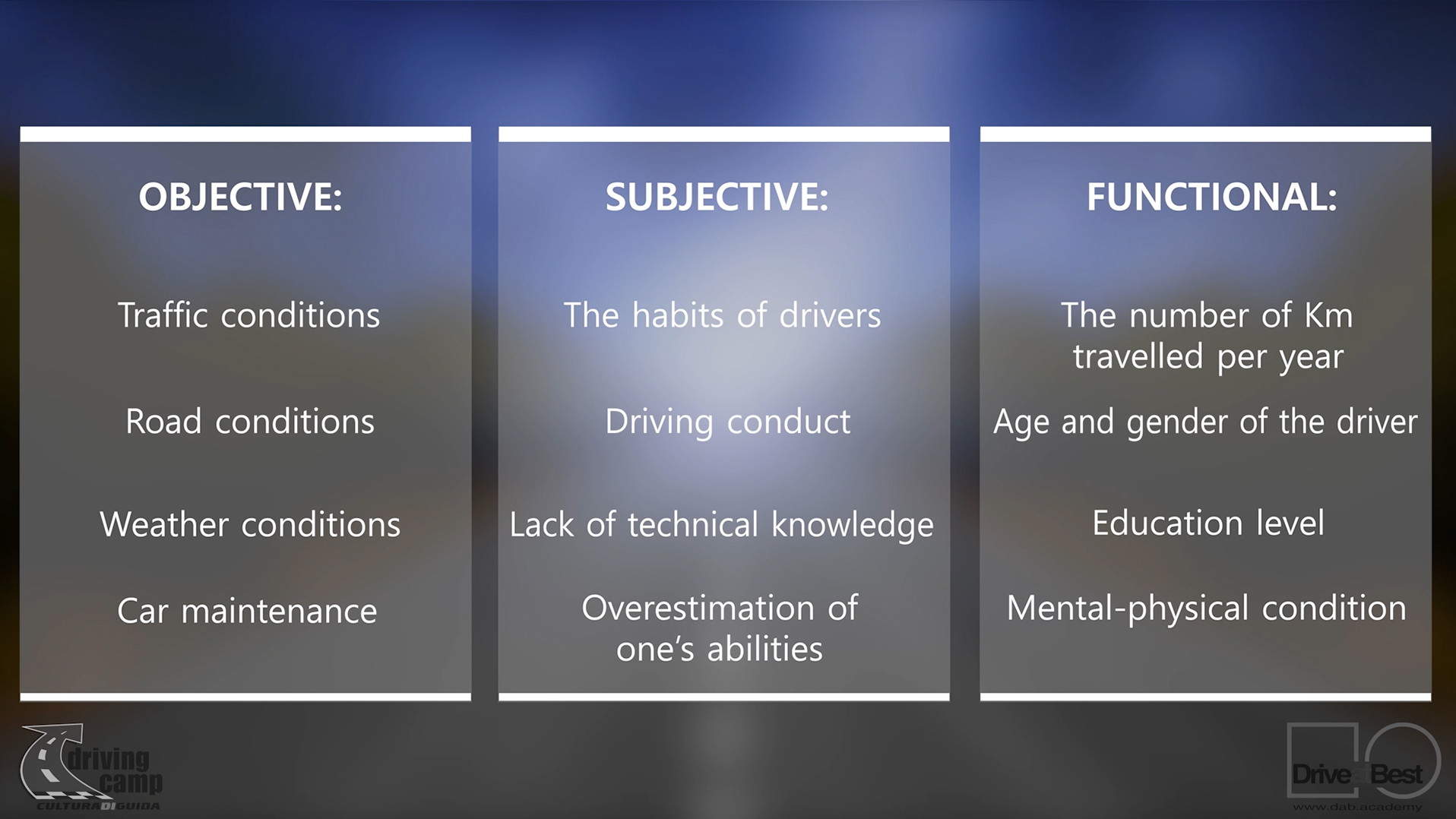 SOME SITUATIONS CANNOT BE CHANGED,
BUT DRIVEATBEST CAN HELP YOU IMPROVE IN MANY OTHER SITUATIONS.
WHAT IS YOUR DRIVING LEVEL?

You're probably a good driver. Maybe you are cautious and you already know the correct driving techniques. However, you know that you can still improve.
Or you're convinced that you're already a good enough driver. And maybe you tend to over-estimate your abilities a bit?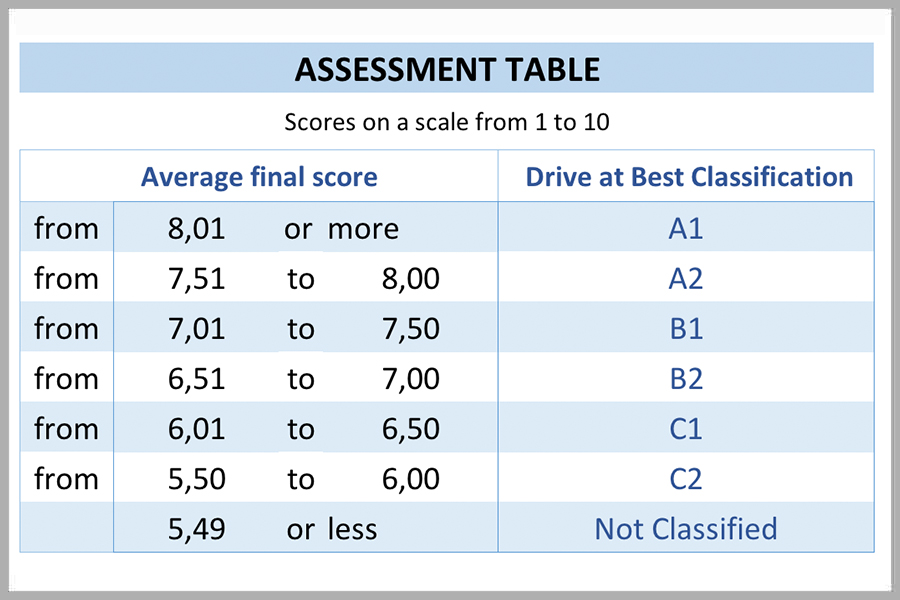 VISION ZERO

It's a combination of a dream and a commitment that governments and institutions that focus on road safety are pursuing for the not so distant future: no more traffic deaths. We know that more than 90% of traffic deaths are due to accidents caused by human error.
In order to reduce, if not eliminate these deaths completely, an enormous commitment is clearly required by all drivers. Not only by committing to respect the traffic laws, but especially by learning to control their vehicles in emergency situations.
When an accident occurs its oftencalled fate. But that's not true at all!
DYING ON THE ROAD IS THE FATE OF THOSE WHO CANNOT DRIVE WELL.
The full assessment covers 4 topics, each with 10 questions and 40 possible answers.

WE ARE GIVING YOU THE OPPORTUNITY TO TRY IT.
You will watch an excerpt of the demonstration videos and you can answer a dozen questions (multiple choice) per topic which will be used to determine your current driving ability.
BUT BY TAKING IT ANONYMOUSLY, WITHOUT THE DATABASE, THE SCORES CANNOT BE DISPLAYED.
By clicking on the icon alongside, you can begin to satisfy your curiosity.
You can do it anonymously or by registering.
As previously stated the scores cannot be displayed if the test is done anonymously.
BY REGISTERING, THE PROGRAM CAN CREATE THE DATABASE, IN THIS WAY YOU WILL BE ABLE SEE THE RESULT YOU OBTAINED FOR EACH TOPIC.
Free Online Courses
Besides the free Course, you also have other possibilities to learn how to drive safely AT PRACTICALLY NO COST?

You can have the "EXCERPTS OF DRIVING":

BOOK Version
0,01 Euro
(4 lessons, without questions).

STANDARD Version
1,00 Euro
(4 lessons, 1 question each lesson = 4 questions).

PLUS Version
2,00 Euro
(4 lessons, 3 questions each lesson = 12 questions).
Are you already a good driver but want to EVALUATE YOUR SKILLS?

Choose the FULL ASSESSMENT
STANDARD Version
0,01 Euro
(4 topics and 40 questions).
If you want to become an expert, or you work for a company interested in better managing the Fleet and reducing driving related risks and therefore traffic accidents can choose the COMPLETE COURSES.

REMEMBER THAT FOR EACH COURSE YOU PURCHASE AT FULL PRICE, YOU WILL RECEIVE ANOTHER ONE FREE.