Free Online Courses
Besides the free Course, you also have other possibilities to learn how to drive safely AT PRACTICALLY NO COST?

You can have the "EXCERPTS OF DRIVING":

BOOK Version
0,01 Euro
(4 lessons, without questions).

STANDARD Version
1,00 Euro
(4 lessons, 1 question each lesson = 4 questions).

PLUS Version
2,00 Euro
(4 lessons, 3 questions each lesson = 12 questions).
Are you already a good driver but want to EVALUATE YOUR SKILLS?

Choose the FULL ASSESSMENT
STANDARD Version
0,01 Euro
(4 topics and 40 questions).
If you want to become an expert, or you work for a company interested in better managing the Fleet and reducing driving related risks and therefore traffic accidents can choose the COMPLETE PROGRAMS that you find below.

REMEMBER THAT FOR EACH COURSE YOU PURCHASE AT FULL PRICE, YOU WILL RECEIVE ANOTHER ONE FREE.
Our online Courses
SUBJECTS AND FORMATS
Our "ONLINE COACHING" is broken down into 4 main areas, each of which is a BASE COURSE. Each Course has 12 to 14 lessons:


SMART DEFENSIVE
"Us and the others"
ECO + CARE DRIVING
"Save money and respect the environment"
SAFE DRIVING
"The correct driving techniques"
ADVANCED SAFE DRIVING
"To learn more"

MIXED COURSES:
Mixed Courses that contain a set of lessons from the 4 Basic Courses can also be purchased.
The shortest course is "EXCERPTS OF DRIVING", which is composed of 4 lessons. The most complete is the "MAXI COURSE", which has 28 lessons.

TIMED COURSES:
If desired, a company can have every course delivered to the user in successive stages.
The company can decide to have one or more lessons delivered at predetermined time intervals. Modules with 1, 2, 3 or 4 lessons with breaks (set by the company) that can vary from 1 day to 1 month or more can be selected. The benefit of this type of delivery is to raise the user's awareness for a longer period of time.

EVALUATING RISKS - DRIVING SKILLS:
Before accessing one of the "Basic" courses, you can also use the ASSESSMENT program to evaluate your current driving skills and it will indicate which "Drive at Best" course is best for you.
It can be a FULL ASSESSMENT - which automatically directs you to the most appropriate course based on the results from your test - or a SPECIFIC ASSESSMENT, if you want to be evaluated on one specific topic and then take the course on this same topic.

COURSE ABSTRACTS:
In addition to the Courses, you can also purchase the Course Abstracts, which you can download and print: they are pdf files that summarize the key concepts covered in the lessons of each Course. They come in a handy and interesting booklet. The Abstracts can also be purchased separately: in this case you will have "mini" or preparatory lessons for the courses. Courses that you can take later.

It is important to remember that, when using the Drive at Best programs, you can interrupt them at any time, and then return to the same point where you left off. This can be repeated several times.
THE COURSES YOU CAN PURCHASE
BELOW YOU WILL FIND THE DRIVEATBEST PRODUCTS.
Each box contains a brief description of the product and a PURCHASE button, if you would like to buy it.
If you still have some doubts, more information on each product is provided in DETAILS.
After selecting a Course, you can compare it with any other Course by clicking on the COMPARE button.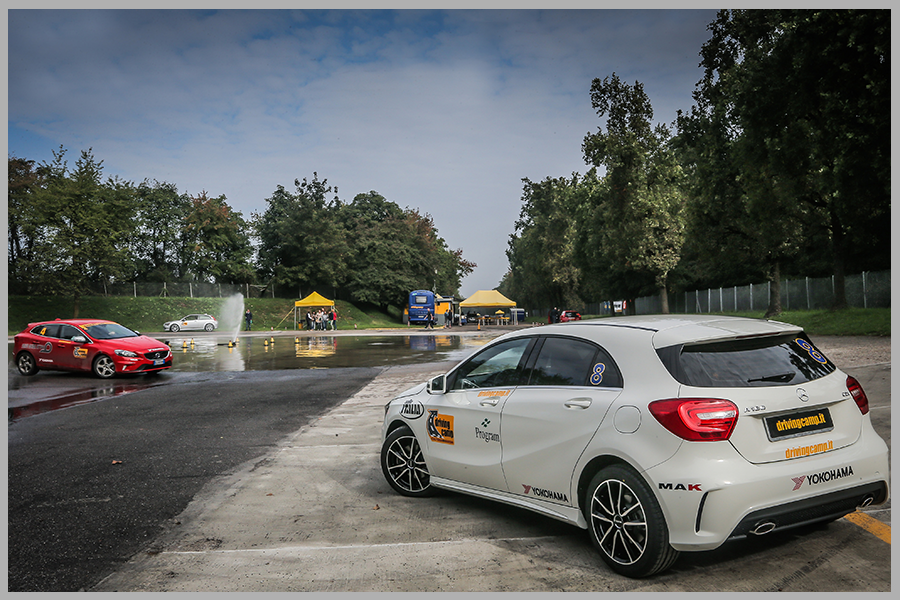 We will give you a Course!
Our best advertising comes by "word of mouth". Those who take a DriveatBest course, will tell their friends if they are happy with it.
To make you even happier, if you buy one Course, we'll give you another one for free. That way you can give it to a friend or a family member. After receiving the credentials for the Course purchased, you will receive those for the second Course.
COMPLETE ASSESSMENT
40 Questions. Symbolic price 0.01 €.
The FULL ASSESSMENT program gives an overall assessment of your current driving skills with 4 videos on the following topics: Driving Position, Defensive Guide, Eco Driving and Safe Driving. The average score for each topic is displayed, but not the scores from the individual answers.
DEFENSIVE STEP 1
7 lessons.Price from 22 to 28 €.
A small taste of the recommendations on Safe Driving, Defensive Driving and Eco Driving: 4 complete lessons that will make you think about the risks associated with driving and will stimulate you to learn more about improving your knowledge and technical skills.
SMART DEFENSIVE
14 lessons. Prices from 35 to 45 €.
The objective of this Course is to provide you with tools to "read" the traffic conditions ahead of you. You can therefore learn to avoid risky situations that you encounter every day. Drive like a protagonist and no longer like a "passenger".
ECO + CARE DRIVING
13 lessons. Prices from 35 to 45 €.
In this Course you will learn how to drive and take care of your car better in order to save money and protect the environment. An interesting course in the car world that will teach you to drive in a more eco-friendly way, while making your wallet happier at the same time.